Edinburgh Guild of Weavers, Spinners and Dyers

Resources
Equipment
The listed items of equipment are held by the Guild and can be borrowed by members for a £50 deposit and £10 monthly charge except tapestry looms £10 deposit and no monthly charge. The charge assists with the upkeep of equipment and other expenses.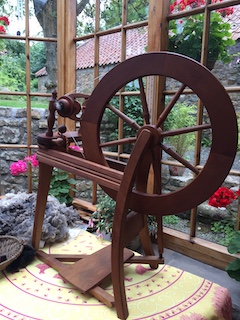 Ashford Traditional Spinning Wheel
Ashford Joy Spinning Wheel, lazy kate and bobbins
Ashford Traditional Spinning Wheel and lazy kate
Schacht Cricket 15" Rigid Heddle Loom
Tapestry Looms
Not all of the equipment will be brought to each meeting. If you would like to borrow something particular, please email (see Contact page) in advance. Otherwise speak to someone on the committee (see Committee page) at a meeting.
Library
"Reference only" books will be taken to every meeting along with the books relevant to that month's Interest Group.
The loan fee is £1 per book per month and members should contact the librarian Jane Buxton direct by email at jdbuxton then @ then hotmail.com if they want to borrow a book that won't be brought to that month's meeting, e.g. they want to borrow a weaving book in a month when there is no Weaving Interest Group.
| SUBJECT | REF NO. | AUTHOR(S) | TITLE |
| --- | --- | --- | --- |
| Dyeing | REF ONLY | Grierson, Su | The Colour Cauldron |
| Dyeing | REF ONLY | Thurstan, Violetta | The Use of Vegetable Dyes |
| Dyeing | REF ONLY | Rice, Miriam C | Mushrooms for Color |
| Knitting | REF ONLY | LeCount, Cynthia Gravelle | Andean Folk Knitting: Traditions and Techniques from Peru and Bolivia |
| Knitting | REF ONLY | Dandanell, Birgitta & Danielsson Ulla | Twined Knitting: A Swedish Folkcraft Technique |
| Spinning | REF ONLY | Ross, Mabel | The Essentials of Yarn Design for Handspinners |
| Spinning | REF ONLY | Pauli, Karen | The Care and Feeding of Spinning Wheels |
| Weaving | REF ONLY | Davison, Marguerite Porter | A Handweaver's Source Book: A Selection of 146 Patterns from the Laura M Allen Collection |
| Weaving | REF ONLY | Tovey, John | Weaves and Pattern Drafting |
| Weaving | REF ONLY | Bradley, Lavinia | Inkle Weaving: A Comprehensive Manual |
| Weaving | REF ONLY | Trotzig, Liv | Weaving Bands: Woven bands, table bands, plaited bands, insertion bands |
| Weaving | REF ONLY | Collingwood, Peter | Peter Collingwood: His Weaves and Weaving |
| Weaving | REF ONLY | Collingwood, Peter | Rug Weaving Techniques: Beyond the Basics |
| SUBJECT | REF NO. | AUTHOR(S) | TITLE |
| --- | --- | --- | --- |
| Crochet | C1 | Cosh, Sylvia & Walters, James | The Crochet Workbook (Workbooks) |
| Embroidery | E1 | Sarja, Toinen | Kauniita (Finnish Embroidery) |
| Knitting | K1 | Brown, Larissa & Brown, Martin John | Knitalong: Celebrating the Tradition of Knitting Together |
| Knitting | K2 | Harrell, Betsy | Anatolian Knitting Designs |
| Knitting | K3 | Starmore, Alice | Aran Knitting |
| Knitting | K4 | Starmore, Alice | Alice Starmore's Book of Fair Isle Knitting |
| Knitting | K5 | Feitelson, Ann | The Art of Fair Isle Knitting: History, Technique, Color & Patterns |
| Knitting | K6 | McGregor, Sheila | The Complete Book of Traditional Fair Isle Knitting |
| Knitting | K7 | Pagoldh, Susanne | Nordic Knitting: Thirty One Patterns in the Scandinavian Tradition |
| Knitting | K8 | Starmore, Alice | Pacific Coast Highway |
| Knitting | K9 | Khmeleva, Galina & Noble, Carol R | Gossamer Webs: The History and Techniques of Orenburg Lace Shawls |
| Knitting | K10 | Stove, Margaret | Creating Original Hand-knitted Lace |
| Knitting | K11 | Lewis, Susanna E | Knitting Lace: A Workshop with Patterns and Projects |
| Knitting | K12 | Harvey, Michael & Compton, Rae | Fisherman Knitting |
| Knitting | K13 | Starmore, Alice | Fishermen's Sweaters |
| Knitting | K14 | Ligon, Linda (edited by) | Homespun Handknit: Caps, Socks, Mittens & Gloves |
| Knitting | K15 | Zimmermann, Elizabeth | Elizabeth Zimmermann's Knitter's Almanac |
| Knitting | K16 | Zimmermann, Elizabeth | Knitting Around |
| Knitting | K17 | Zimmermann, Elizabeth | Knitting without Tears |
| SUBJECT | REF NO. | AUTHOR(S) | TITLE |
| --- | --- | --- | --- |
| Dyeing | D1 | Buchanan, Rita | A Weaver's Garden |
| Dyeing | D2 | Davenport, Elsie G | Your Yarn Dyeing: A Book for Handweavers and Spinners |
| Dyeing | D3 | Wickens, Hetty | Natural Dyes for Spinners and Weavers |
| Dyeing | D4 | Dean, Jenny | Natural Dyeing without Chemicals |
| Dyeing | D5 | Cameron, Nancy Foy | Woad: Its history, how to grow it, how it works, how to get colour out of it |
| Dyeing | D6 | Schultz, Kathleen | Create Your Own Natural Dyes |
| Dyeing | D9 | Griffin, Heather & Hone, Margaret | Introduction to Batik |
| Dyeing | D10 | Moller, Elfriede | Shibori: The art of fabric folding, pleating and dyeing |
| Spinning | S1 | Chadwick, Eileen | The Craft of Hand Spinning |
| Spinning | S3 | Ross, Mabel | The Essentials of Handspinning |
| Spinning | S4 | Ross, Mabel | Encyclopaedia of Hand Spinning |
| Spinning | S5 | Gibson-Roberts, Priscilla A | High Whorling: A Spinners Guide to an Old World Skill |
| Spinning | S6 | Davenport, Elsie G | Your Handspinning |
| Spinning | S7 | Teal, Peter | Hand Woolcombing and Spinning: A Guide to Worsteds from the Spinning-wheel |
| Spinning | S8 | Lewis, June R | From Fleece to Fabric: A Practical Guide to Spinning, Dyeing and Weaving |
| Spinning | S9 | Stove, Margaret | Merino: HandSpinning, Dyeing and Working with Merino and Superfine Wools |
| Fibre | F1 | Wilson, Diana | Lincoln Longwool - The Versatile Fleece |
| SUBJECT | REF NO. | AUTHOR(S) | TITLE |
| --- | --- | --- | --- |
| Weaving | W1 | Alderman, Sharon | A Handweaver's Notebook: Swatch Collections from Handwoven Magazine |
| Weaving | W2 | Simpson, L. E. & Weir, M. | The Weaver's Craft |
| Weaving | W3 | Plath, Iona | The Handweaver's Pattern Book: Over 120 Designs for Upholstery, Curtains, Place Mats, Etc |
| Weaving | W4 | Crutchley, Anna | Weave!: An Anthology of Weave Structures and Techniques |
| Weaving | W5 | Chetwynd, Hilary | The Weaver's Workbook |
| Weaving | W6 | Davenport, Elsie G. | Your Handweaving |
| Weaving | W7 | Kirby, Mary | Designing on the Loom |
| Weaving | W8 | Oelsner, G.H. | A Handbook of Weaves |
| Weaving | W9 | Hooper, Luther | Hand-loom Weaving |
| Weaving | W10 | Snyder, Mary E | Lace and Lacey Weaves: A compilation of 47 lace and lacey weave projects with complete worksheets |
| Weaving | W11 | O'Connor, Paul R | A Twill of Your Choice: Color and weave effect twills on two to eight harnesses, with computer drawdowns |
| Weaving | W12 | Selander, Malin | Weave a Weave |
| Weaving | W13 | Halsey, Mike | Introducing Double Cloth (on 4-Shaft Looms) |
| Weaving | W14 | Bress, Helene | Inkle Weaving |
| Weaving | W17 | Davenport, Betty Linn | Hands On Rigid Heddle Weaving |
| Weaving | W16 | Tod, Osma Gallinger & Josephine Couch Del Deo | Designing and Making Handwoven Rugs: Techniques for Creating European, Oriental and American Rugs and Household Fabrics |
| Weaving | W18 | Grierson, Ronald | Woven Rugs |
| Weaving | W19 | Farrow, Hazel | Painting Warps |
| Weaving | W20 | Harvey, Nancy | Tapestry Weaving: A Comprehensive Study Guide |
| Weaving | W21 | Wassef, Yoanna Wissa | Egyptian Landscapes: Weavings from the Ramses Wissa Wassef School |
| Weaving | W22 | Reichard, Gladys A | Weaving a Navajo Blanket |